Item = Tab for every kind of Hardware-Software component or Service
Item is the feature that tracks every document that has to be recorded,
allowing to retrieve at a later stage all the information with the integrated search function
Create Item with a simple clik!
Quickly add a server, a software or what you want to record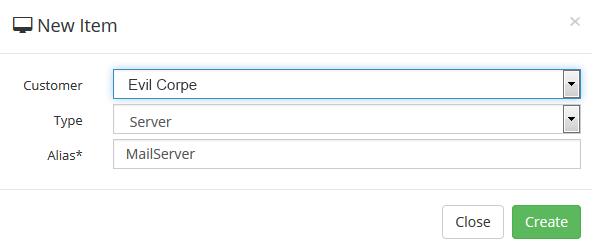 Complete and immediate tab
Every Item is composed by different tabs

Integrated search engine
You can perform a complete research for every field in the Item tab
You can also search for IP addresses and obtain an ordered list
Item Templates
Other Item templates can be defined according to your needs, thus giving you unlimited ways of customizing Sygma with your preferences.

Once defined a new Item type, you can customize the entries of the various tabs.

You can, for instance, create a Firewall Item and set the Network tab to require to compile as default entries with at least 2 IP address, one for LAN and the other for WAN. Therefore every Firewall Item will have the template you have just created.